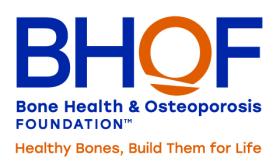 BoneFit 2023 - Module B: Assessment
Discuss different types of assessments and values to indicate performance. 
Target Audience
This continuing education activity is intended for use by health professionals who participate in the care of patients at risk for or suffering from osteoporosis, in the areas of primary care, endocrinology, geriatrics, gynecology, internal medicine, obstetrics, orthopedics, osteopathy, pediatrics, physiatry, radiology, rheumatology and physical therapy.
This includes physicians, nurse practitioners, registered nurses, pharmacists, physician assistants, technologists, researchers, public health professionals and health educators with an interest in osteoporosis and bone health.
Learning Objectives
1. Discuss postural, balance, strength assessment 
2. Understand useful tips in assessments including body height and range of motion.
BHOF
251 18th St S, Suite 630
United States
Judi Laprade, PT, MSc, PhD: Dr. Laprade received her degree in Physical Education at the University of Western Ontario and then went on to complete her Physical Therapy degree, MSc and PhD in the Department of Anatomy at Queen's University. She has previously taught anatomy and physical therapy courses at Queen's University and The Hong Kong Polytechnic University. Currently, she is the Anatomy Course Director for the kinesiology & physical education, dentistry and physical therapy programs. Since 2010, Dr. Laprade has been a Lead Trainer and the Content Lead for Bone Fit™ with Osteoporosis Canada and the Ontario Osteoporosis Strategy, running over 60 workshops and training 1600+ health and fitness professionals. Bone Fit™ is an evidence-informed exercise training workshop for healthcare professionals and exercise practitioners who work with clients with osteoporosis. With Dr. Laprade at the helm and support from the co-trainers, Bone Fit™ has become a well-recognized program in exercise across the country.
Disclosures: Nothing to disclose
Joanne MacPherson PT, DPT, OCS, Dip MDT, CEEAA received her BSc. in Physiotherapy from Dalhousie University in 1990 and her Doctorate in Physical Therapy from A.T. Still University in 2022. She earned her Diploma in Mechanical Diagnosis and Therapy from the McKenzie Institute in 2000 and has been an APTA Board Certified Orthopedic Specialist since 2001. Joanne is also a Board-Certified Exercise Expert for the Aging Adult. Joanne has a special interest in exercise prescription for special populations. She holds certifications in Otago and LSVT Big, is a leader for the community fall prevention program "A Matter of Balance" and is a licensed provider of the Onero program. Joanne has been a presenter for the United States Bone and Joint Initiative and the Bone Health and Osteoporosis Foundation (BHOF). In addition to being one of the Master trainers for the BHOF BoneFit program, Joanne serves as an adjunct professor at Husson University School of Physical Therapy. Joanne works at an outpatient physical therapy clinic in Maine where most of her caseload consists of patients with osteoporosis.
Kavita Patel, PT, DPT earned her B.Sc degree in Physical Therapy from McGill University and her DPT from Arcadia University. Kavita currently practices at Kessler Rehabilitation Center in Clifton, NJ and holds the position of "Advanced Clinical Specialist." She is the leader of her company's Bone Health Special Interest Group and is actively involved in organizing and speaking at numerous community outreach events targeting all age groups and populations to raise awareness about bone health, fracture prevention, and promoting the benefits of exercise and physical therapy. Kavita is also an Adjunct Professor with Rutgers University's Doctor of Physical Therapy program and has collaborated on the highly successful annual Rutgers Osteoporosis Interprofessional Education event. Kavita is an Ambassador for the Bone Health and Osteoporosis Foundation (BHOF) and a Master Trainer for the BHOF BoneFit USA courses. She has been a guest speaker for the ISO (Interdisciplinary Symposium on Osteoporosis), APTANJ (American Physical Therapy Association-NJ Chapter), and ACRM (American Congress of Rehabilitation Medicine) presenting on various bone health topics.
CME Program Eligibility
Method of Participation in the Learning Process: Clinician learners will view and analyze the subject matter, conduct additional informal research through related internet searches on the subject matter, and complete a post-test assessment of knowledge and skills gained as a result of the activity.
After participating in this activity, the reader has the option of taking a post-test with a passing grade of 70% or better to qualify for continuing education credit for this activity. It is estimated it will take 1.0 hour(s) to complete the reading and take the post-test. Continuing education credit will be available for two years from the date of publication.
Disclosure of Commercial Support
It is the policy of the Bone Health & Osteoporosis Foundation (BHOF) to ensure balance, independence, objectivity, and scientific rigor in all its sponsored publications and programs. BHOF requires the disclosure of the existence of any significant financial interest or any other relationship the sponsor, Editorial Board or Guest Contributors have with the manufacturer(s) of any commercial product(s) discussed in an educational presentation. All authors and contributors to this continuing education activity have disclosed any real or apparent interest that may have directbearing on the subject matter of this program.
Please be advised that BHOF's accreditation status with ACCME and ANCC does not imply endorsement by BHOF, ACCME or ANCC of any commercial products displayed in conjunction with this activity or endorsement of any point of view.
Refund Policy
BHOF offers no returns or refunds on online internet CME activities purchased through our store. All sales are final. Meeting and workshop registrations will be refunded in accordance with the cancellation policy of the meeting and/or workshop, as outlined at registration.
Available Credit
1.00

AMA PRA Category 1 Credit™

The National Osteoporosis Foundation is an approved Accreditation Council for Continuing Medical Education (ACCME) accredited CME provider through March 2023. ACCME accreditation accelerates learning, change and improvement in the field of osteoporosis. The National Osteoporosis Foundation is accredited by the Accreditation Council for Continuing Medical Education to provide continuing medical education for physicians. The National Osteoporosis Foundation designates educational activities for AMA PRA Category 1 Credit™. Physicians should only claim credit commensurate with the extent of their participation in the activity.

1.00

ANCC

The mission of the American Nurses Credentialing Center (ANCC), a subsidiary of the American Nurses Association (ANA), is to promote excellence in nursing and health care globally through credentialing programs. The National Osteoporosis Foundation is accredited as a provider of continuing nursing education by the American Nurses Credentialing Center's Commission on Accreditation. The National Osteoporosis Foundation designates educational activities for continuing nursing education credit(s).

1.00

Participation

1.00

Participation/Attendance

A certificate of attendance will be provided to all other attending healthcare professionals. Nurse practitioners and physician assistants may request AMA PRA Category 1 Credit(s)™ certificate of participation. Please refer to your provider to determine whether this program will qualify for other categories of continuing education credits. The American Academy of Physician Assistants (AAPA) also accepts educational activities certified for AMA PRA Category 1 Credit™ from organizations accredited by the Accreditation Council for Continuing Education (ACCME).