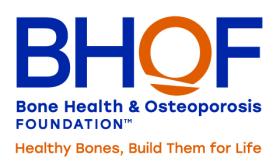 BoneFit™ USA - June 2022 Training
BoneFit™ is an evidence-informed exercise training workshop, designed for healthcare professionals and exercise practitioners to provide training on the most appropriate, safe and effective methods to prescribe and progress exercise for people with osteoporosis.
Target Audience
This continuing education activity is intended for use by health professionals who participate in the care of patients at risk for or suffering from osteoporosis, in the areas of primary care, endocrinology, geriatrics, gynecology, internal medicine, obstetrics, orthopedics, osteopathy, pediatrics, physiatry, radiology, rheumatology and physical therapy.
This includes physicians, nurse practitioners, registered nurses, pharmacists, physician assistants, technologists, researchers, public health professionals and health educators with an interest in osteoporosis and bone health.
Learning Objectives
Upon completion of this training, all participants will be able to:
Understand the human and economic cost of osteoporotic fractures, the importance of maximizing bone health across the lifespan, and preventing primary and secondary osteoporotic fractures.

Describe how the structural and material properties of bone respond to loads, and how bone changes with progressing age.

List health and lifestyle factors that increase the risk of osteoporosis and fractures.

Use the fracture assessment tools to identify an individual's fracture risk.

Understand the bone mineral density values (T-score) from a DXA scan and apply critical thinking to relate it to an individual's overall fracture risk.

Identify physical examination procedures and screening tools for height, posture, strength, balance, and physical performance test measures, to identify risk of osteoporosis, falls, and fractures.

Understand and apply each component of the "Too Fit to Fracture" exercise guidelines for individuals with low bone density.

Effectively perform and instruct the proper hip hinge, golfer's reach and apply these to activities of daily living.

Instruct safe and appropriate erector spinae strengthening exercises in various positions.

Instruct and/or modify an individual's exercise program to minimize the risk of fractures (Yoga, Pilates, Gym program), while placing an emphasis on alignment, safe transitions, and appropriate loads.

Apply problem-solving and clinical decision-making skills in patients with low bone density to prescribe safe and appropriate therapeutic modalities to achieve rehabilitative goals.
BHOF
251 18th St S, Suite 630
United States
Judi Laprade, PT, MSc, PhD: Dr. Laprade received her degree in Physical Education at the University of Western Ontario and then went on to complete her Physical Therapy degree, MSc and PhD in the Department of Anatomy at Queen's University. She has previously taught anatomy and physical therapy courses at Queen's University and The Hong Kong Polytechnic University. Currently, she is the Anatomy Course Director for the kinesiology & physical education, dentistry and physical therapy programs. Since 2010, Dr. Laprade has been a Lead Trainer and the Content Lead for Bone Fit™ with Osteoporosis Canada and the Ontario Osteoporosis Strategy, running over 60 workshops and training 1600+ health and fitness professionals. Bone Fit™ is an evidence-informed exercise training workshop for healthcare professionals and exercise practitioners who work with clients with osteoporosis. With Dr. Laprade at the helm and support from the co-trainers, Bone Fit™ has become a well-recognized program in exercise across the country.
Disclosures: Nothing to disclose

Kavita Patel, PT, Kessler Rehabilitation Center: Kavita Patel is a physical therapist at the Kessler Rehabilitation Center (KRC) located in Clifton, NJ. She earned her undergraduate degree from McGill University in Montreal, Canada and her doctorate in physical therapy (DPT) from Arcadia University in Glenside, PA. Kavita has been a practicing clinician for 23 years. She has been with KRC for 10 years and is especially interested in bone health and osteoporosis, serving as the Lead for the Bone Health Special Interest Group. She works closely with the community offering events such as backpack safety screenings, posture screenings, and osteoporosis risk screenings. She is also an APTA Credentialed Clinical Instructor.

Joanne MacPherson, PT: Joanne MacPherson is a physical therapist at Maine Coast Memorial Hospital with a special interest in osteoporosis prevention and management. She is the Maine ambassador for the Bone Health and Osteoporosis Foundation. She hopes that public education programs like this one will help reduce the 2 million fractures caused annually by osteoporosis.
CME Program Eligibility
Method of Participation in the Learning Process: Clinician learners will view and analyze the subject matter, conduct additional informal research through related internet searches on the subject matter, and complete a post-test assessment of knowledge and skills gained as a result of the activity.
After participating in this activity, the reader has the option of taking a post-test with a passing grade of 70% or better to qualify for continuing education credit for this activity. It is estimated it will take 1.0 hour(s) to complete the reading and take the post-test. Continuing education credit will be available for two years from the date of publication.
Disclosure of Commercial Support
It is the policy of the Bone Health and Osteoporosis Foundation (BHOF) to ensure balance, independence, objectivity, and scientific rigor in all its sponsored publications and programs. BHOF requires the disclosure of the existence of any significant financial interest or any other relationship the sponsor, Editorial Board or Guest Contributors have with the manufacturer(s) of any commercial product(s) discussed in an educational presentation. All authors and contributors to this continuing education activity have disclosed any real or apparent interest that may have directbearing on the subject matter of this program.
Please be advised that BHOF's accreditation status with ACCME and ANCC does not imply endorsement by BHOF, ACCME or ANCC of any commercial products displayed in conjunction with this activity or endorsement of any point of view.
Refund Policy
BHOF offers no returns or refunds on online internet CME activities purchased through our store. All sales are final. Meeting and workshop registrations will be refunded in accordance with the cancellation policy of the meeting and/or workshop, as outlined at registration.
Available Credit
5.00

AMA PRA Category 1 Credit™

The National Osteoporosis Foundation is an approved Accreditation Council for Continuing Medical Education (ACCME) accredited CME provider through March 2023. ACCME accreditation accelerates learning, change and improvement in the field of osteoporosis. The National Osteoporosis Foundation is accredited by the Accreditation Council for Continuing Medical Education to provide continuing medical education for physicians. The National Osteoporosis Foundation designates educational activities for AMA PRA Category 1 Credit™. Physicians should only claim credit commensurate with the extent of their participation in the activity.

5.00

ANCC

The mission of the American Nurses Credentialing Center (ANCC), a subsidiary of the American Nurses Association (ANA), is to promote excellence in nursing and health care globally through credentialing programs. The National Osteoporosis Foundation is accredited as a provider of continuing nursing education by the American Nurses Credentialing Center's Commission on Accreditation. The National Osteoporosis Foundation designates educational activities for continuing nursing education credit(s).

5.00

Participation

5.00

Participation/Attendance

A certificate of attendance will be provided to all other attending healthcare professionals. Nurse practitioners and physician assistants may request AMA PRA Category 1 Credit(s)™ certificate of participation. Please refer to your provider to determine whether this program will qualify for other categories of continuing education credits. The American Academy of Physician Assistants (AAPA) also accepts educational activities certified for AMA PRA Category 1 Credit™ from organizations accredited by the Accreditation Council for Continuing Education (ACCME).